2013 , 3D Modelling , FEA analysis , Heavy Lift , Offshore Wind , Weight Spreading ,

06 Apr
The transition of TP's on the deck of a vessel always causes controversy. Which steel structural option to implement!
There are two main focus's, either
Option 1 . A tailor made design.

High initial investment, long term cost reductions, no vessel flexibility, repeat use for many multiple projects with the same cargo and vessel

Option 2 . A weight spreading option.

Developed for one project, optimised for the actual cargo and vessel, low initial investment, easy to implement.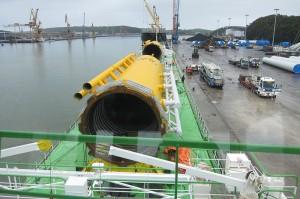 Each method have their potential benefits and drawbacks.
Each solution was carefully project analysed to define the optimum cost effective solution
The solution implemented for this vessel, project and cargo was option 2.